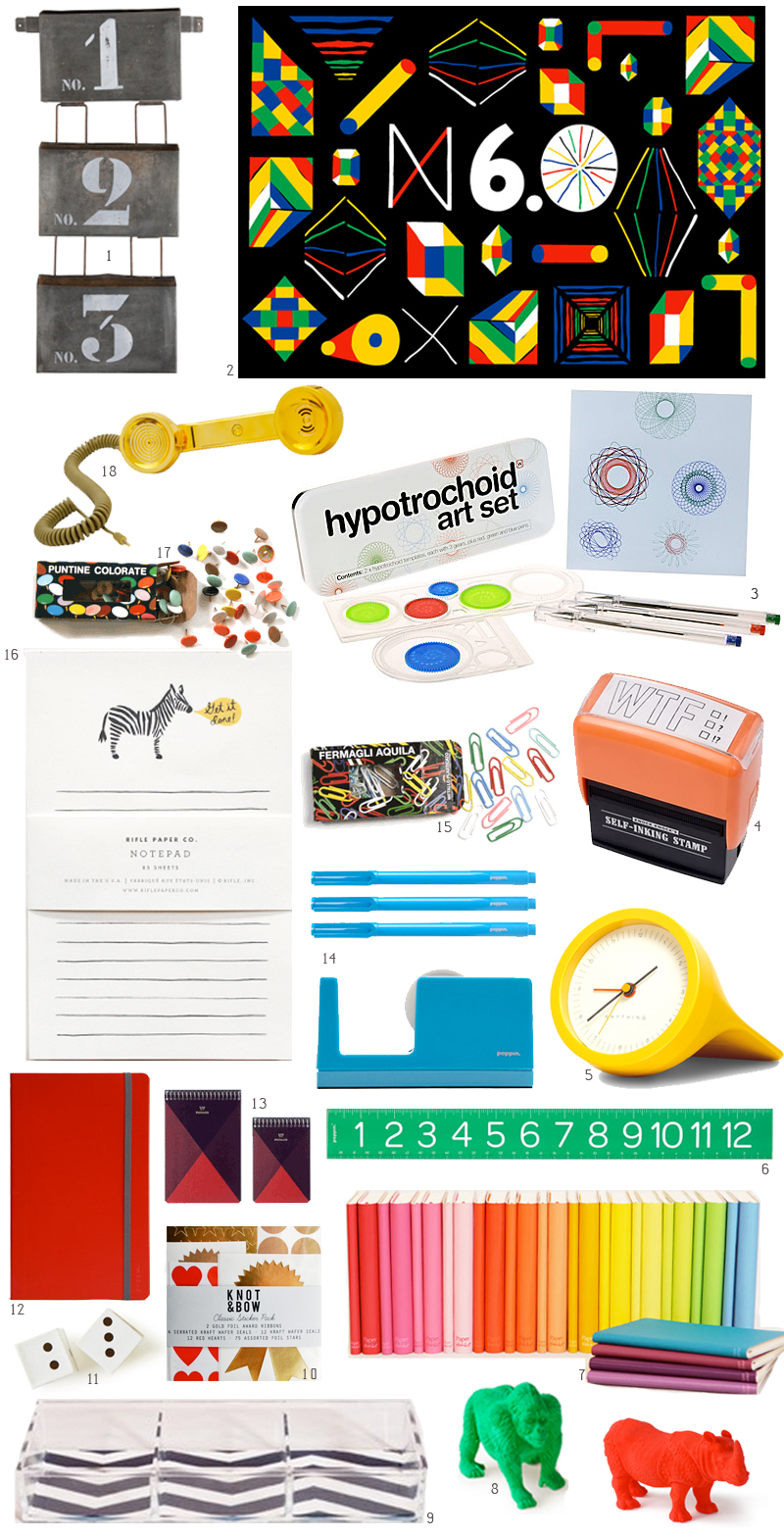 I try to re-organize myself every fall by cleaning up my desk and buying myself a few fun new office accessories to keep motivated. I am having a hard time letting go of summer, so I can't think of a better wake-up call then these bright pops of color that are around the marketplace right now. When I saw Andreas Samuelsson's print it made me want to go back to elementary school and start playing with Spirographs. Poppin is a great company that has a variety of office basics in a rainbow assortment of colors. They were kind enough to send me this red notebook and these ballpoint pens which I love and have been happily using since. (Thanks, Poppin!) Good luck getting back to the grind!
…………………………………………………………………………………………………………………………………………………………………………………………………
1. Office Organizer | 2. Nike 6.0 by Andreas Samuelsson | 3. Hypotrochoid Art set | 4. WTF Stamp (this would really come in handy!) | 5. Michael Sodeau Clock | 6. Emerald Ruler | 7. Rainbow notebooks | 8. Endangered Species Rhino and Gorilla erasers | 9. Lucite chevron tray | 10. Classic Sticker pack | 11. Dice erasers | 12. Red notebook | 13. Ruby Notebooks | 14. Poppin tape dispenser and ballpoint pens | 15. & 17. Italian paper clips and pushpins | 16. Get it Done Zebra notepad (listen to that zebra!) | 18. Pop Handset Gold
Are you following Luster on Facebook ♡ Twitter yet?